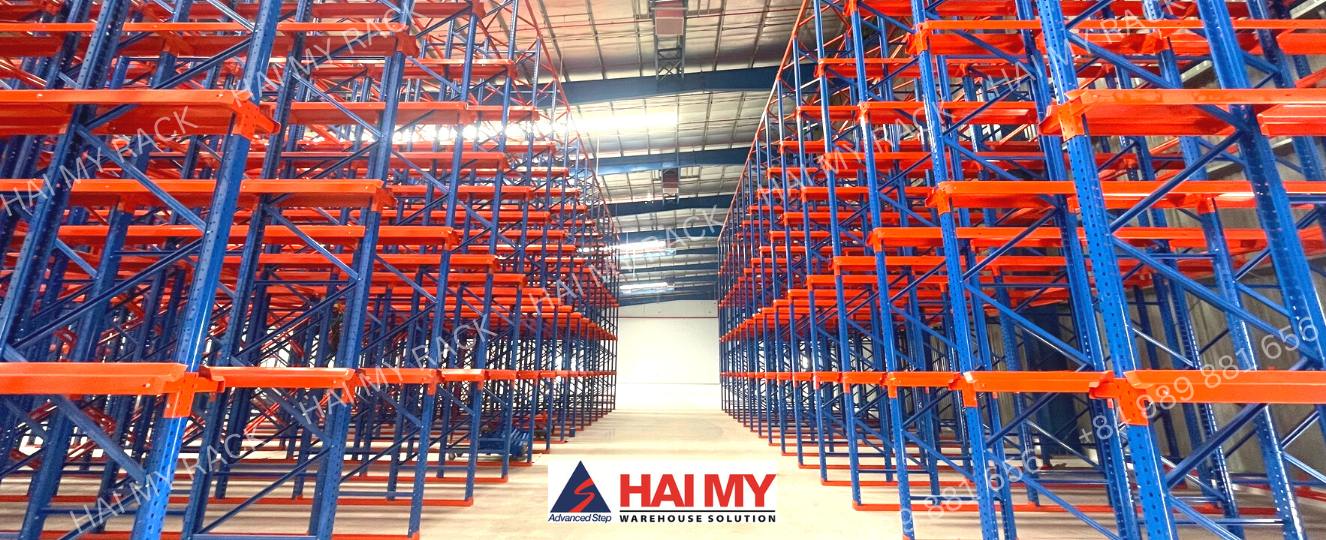 24 Aug

Top 6 most popular warehouse storage racking

(Haimy.com) – Warehouse storage racking is an indispensable equipment in today's modern warehouses. Using a warehouse to help manage inventory and goods easily and accurately. Let's take a look at the top 6 most popular warehouse racking with Hai My Rack:
Top 6 most popular warehouse storage racking
1. Mezzanine floor / Mezzanine rack – Industrial racking system for storing heavy loads 
Mezzanine floor is a kind of industrial rack / warehouse storage system / large load storage rack.

Mezzanine floor is made of iron or steel that can hold a load of 500 – 1500 kg/m2.

This kind of rack helps to optimize the storage area at least 2 – 3 times.

Mezzanine floors have a design with stairs going up and with an elevator to transport goods. This design helps to optimize the floor space and is suitable for narrow warehouses.
2. Drive In / Drive Thru warehouse storage racking system – Popular warehouse racking for warehouses with high storage density 
Drive In warehouse racking is a type of rack where forklifts can go inside the racking system to load and unload goods. The aisle of Drive In Rack / Drive Thru Rack is designed to be small to save space. It is estimated that this warehouse racking system helps to increase the warehouse area about 65 – 70%.

Drive In Racking is a great solution for warehouses that hold a large number of similar products. Product storage density is high.

The initial cost of Drive In warehouse racking is quite relative, suitable for many different businesses. 

The loading and unloading method of Drive In industrial racking is LIFO (Last In – First Out), the goods that come in last will come out first. So it is suitable for goods with no expiry date or long-date storage.

Drive In Racking can be designed from 3 to 5 floors and each floor has a depth of up to 7 pallets.

Drive Thru rack have the same design as Drive In shelves. However, it has an extra aisle at the back to support loading and unloading according to FIFO (First In – First Out). This type of warehouse racking is suitable for goods with a short-date storage.
3. Versatile rivet shelf – Popular warehouse shelf for light loads 
If you are looking for a shelf that can be used in any situation, the versatile rivet shelf is a perfect choice. Versatile rivet shelves can be used in families, offices, small and large warehouses, pharmaceutical warehouses, cold storage,…

It can be used to store files, papers, drugs, plants, food, goods, etc.

The average load of multi-purpose rivet shelves is 150 kg / floor.

A lot of functions are integrated in this versatile shelf. Besides, the versatile rivet shelf is also very easy to assemble and move. The price of multi-purpose shelves is also much softer than other types of warehouse shelves. The design of the modern multi-purpose shelf is suitable for many different spaces.

Multi-purpose shelf is a product that any business, family or individual should own at least 1 piece. 

Currently, this line is being used in many places such as: family (bedroom, living room, kitchen, study room, reading room, balcony, …), office, home. warehouse, mechanical garage, library, school, bookstore, supermarket, grocery store, laundromat, etc.
4. Selective warehouse racking – The basic warehouse racking for heavy-duty goods 
Selective racking is the most popular and basic structure of industrial racking. Other types of rack are developed from the basic design of Selective Racking System.

Selective warehouse racking saves 30 – 40% of warehouse space. Selective industrial racking is also suitable for all types of forklifts and pallets. 

This storage rack is suitable for warehouses that need to load and unload goods frequently and quickly. 

The types of goods stored on the Selective Racks are also very diverse and of many different categories. 

Selective storage shelves are also very easy to disassemble and move. 

This is the type of warehouse racking that any business wants to equip in their warehouses.

The initial investment cost of Selective industrial rack is not high, suitable for the budget of many businesses today.
5. VNA warehouse racking system (Very Narrow Aisle Rack) – Racking system for pharmacy, drugstore, pharmaceutical warehouses 
VNA racking system helps to maximize the height of warehouses. The height of Narrow Aisle storage racks can be up to 11 – 17m.

The aisle of this type of racking is very narrow, just enough for forklifts to enter. VNA warehouse shelves are used in combination with special forklifts (small tower forklifts, swingers, automatic cranes) that can load and unload goods from above.
6. Shelving warehouse storage racking (Medium load warehouse racking) – The most popular warehouse racking today
For warehouses that require medium-load goods (200 – 500 kg/floor), Shelving warehouse racking is a suitable choice.

Shelving racking has a moderate and beautiful design, easy for manual loading and unloading goods.

Shelving medium racks are suitable for most retail systems, grocery stores, supermarkets, light to medium warehouses, drugstores, cold storage,….
Where can you buy reputable and quality warehouse storage racking?
HAI MY RACK – A professional company specializing in designing, manufacturing and installing warehouse racking with 30 years of experience in the racking manufacturing industry will be a great choice for your business.

We can produce all kinds of popular storage racks today. And also other types of racks according to customer requirements.

Our customers come from Vietnam and abroad: USA, Canada, Denmark, Singapore, Australia, etc. This will be a confirmation of the quality of our products and services.
Reasons you should choose Hai My Rack to implement warehouse racking for your business: 
Free consultations, free drawings, free warehouse surveys.
The technical team is professional and dedicated. Always follow up before, during and after projects, supporting customers with all their ability.
The quality of Hai My warehouse racks is guaranteed by ISO 9001 certificate – An European Standard of Products Quality.
Our price is competitive in the industry. Best price from the factory for our customers.

Installation and delivery follow the customers' requirements.

Long-term warranty 12 – 60 months, support customers after purchase.

CONTACT US NOW:
Hotline: +84 989 881 656
ADDRESS OF HAI MY INDUSTRIAL JOINT STOCK COMPANY:
Factory: Lot HF6-HF7, Road No. 3, Xuyen A Industrial Park, My Hanh Bac Commune, Duc Hoa District, Long An Province, Vietnam.
Office: 2nd Floor, Kim Tam Hai Building, 27 Truong Chinh, Tan Thoi Nhat Ward, District 12, Ho Chi Minh City, Vietnam.
RELATED POSTS TO WAREHOUSE STORAGE RACKING:
>> Top 5 Industrial Trolleys Today