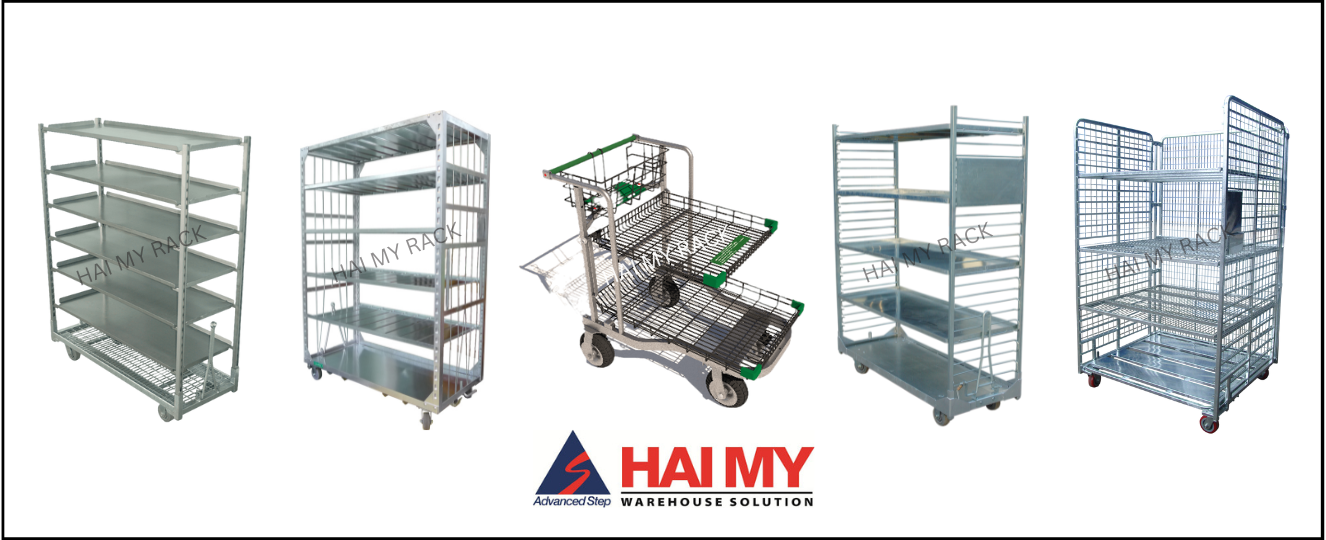 10 Th4

Top 5 Industrial Trolleys That Are Used The Most

(Haimy.com) – Hai My Rack is a company with 30 years of experience in manufacturing warehouse solutions. The products of Hai My meet ISO 9001 standards, have outstanding durability and high load capacity. Besides, the price is affordable and competitive comparing with other companies on the market. Among Hai My's products, industrial trolleys/carts have become the popular product line. Not only in Vietnam but also in many countries such as Denmark, USA, UK, Singapore, Canada, Australia, etc. In this article, let's take a look at some of our most popular industrial trolleys.
Types of Hai My Industrial Trolleys
Danish Trolley – Greenhouse Industrial Trolleys
This type of trolley is often used for light-weight objects such as potted plants, flowers or other frequently moved light goods. 
Product's features: 
Material: Steel

Load capacity: 50 kg/floor (6 floors)

The wheel can withstand a weight of 1000 kg

These products are hot-dip galvanizing or powder coating to resist rust, corrosion and oxidation.

High durability: 10 – 20 years

Product designs, parameters, product colors are made according to customer requirements

Standard shapes: square or rectangular

The shelves can be adjusted easily with only 1 person

Warranty: 12 months
Kalamazoo Heavy-Duty Industrial Trolleys
The Kalamazoo trolley is especially designed by Hai My's engineers. This product line is specialized for moving heavy goods for long distances.
The whole product is welded for stable operation.

After welding, the product will be hot-dip galvanized to prevent rust, oxidation. This trolley is extremely durable. 

Load capacity: 200 kg/floor.

The size can be adjusted according to the requirements of the customers.
Racking Trolley (Sliding Trolley)
Racking Trolley is suitable and widely used for places where space is limited.
This trolley can change the position of the floors by sliding.

Easy to pick-up and drop-in goods. 

Standard height: 77″ (196 cm).  

Size and design, color can be changed according to customer requirements.
Roll Container (Folding Trolley)
Industrial trolleys are extremely convenient and space-saving. When not in use, it can be folded to optimize storage space.
Material: Steel

Surface treatment: Hot dipped galvanized

Standard size: 43" x 48" (110 cm x 122 cm), 30" x 60" (76 cm x 152 cm)

Standard height: 77" (196 cm).

Product design and product details can be adjusted according to customer requirements.
Shopping Cart
The product has a modern design, meeting European standards (ISO 9001). Hai My Shopping Carts are widely used in stores, supermarkets, shopping mall, etc.

The handle part of shopping cart was designed to be easy to hold and control, safe and convenient for users.

Load capacity: Upper floor: 50 kg, lower floor: 90 kg.

Size and product design are based on customers' own requirements.

Material: Steel

Surface treatment: Galvanized or powder coated.

Color: Optional.
The General Features of Hai My Industrial Trolleys
American brand rubber wheels.

Add name plates (ID Name Plates) and Bar Code according to customer requirements.

Powder coating or Hot-dip galvanizing (zinc coating) upon request.

Custom design of shelves: Unique extra heavy wire grid shelves; solid steel shelves; expanded metal shelves.

Above are some types of industrial trolleys that are extremely popular with customers of Hai My.
Please contact us now to receive the best price on the market: 
HOTLINE: +84 98 988 16 56 
EMAIL: contact@haimy.com / phi-hoang@haimy.com
RELATED POSTS TO INDUSTRIAL TROLLEYS / CARTS:
>> Hai My Steel Danish Trolleys